Announcement: "The CureCoin Project" Phase 1 Fiscal Sponsorship Complete
"The CureCoin Project" has fiscal sponsorship from Visions Made Viable, a 501(c)3 nonprofit organization (tax ID number: 26-2214003). Fiscal sponsorship means that The CureCoin Project has legal and tax exempt status under a sponsoring organization which has agreed to offer us nonprofit status for donations administration. Our fiscal sponsor is Visions Made Viable, a 501(c)3 non-profit based in California and committed to helping seed projects launch, and many of which "spin-off" to become independent non-profits.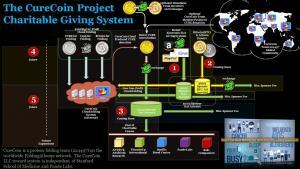 Now you can
support/donate
to the CureCoin Project's "Private Cloud Folding" systems with tax deductible contributions – 90% of which go directly to supporting computational power towards
Protein Folding Research on Folding@home
to help scientists study diseases like Cancer, Alzheimer's, Parkinson's, HIV and other very serious genetic, viral and bacterial diseases. Thanks to blockchain technology, the resulting CureCoin digital currency, exchange symbol [
CURE
], will be used to extend the non-profit portion of the CureCoin Project private Cloud Folding systems in our Bay City, MI US facility, in addition to funding our selected charities through Visions Made Viable*.
---
Phase 0
Legacy Giving System
Phase 1
 Accept Deductible Donations (Cash, Paypal, retail giving like Amazon Smile) to fund Cloud Folding*
Selecting Visions Made Viable in your Amazon Smile account ensures 90% of Amazon's contribution of your purchase price goes towards groundbreaking
Protein Folding research in our private cloud.
Adding Award Winning Research To Your Amazon Order Is Now Free!
Phase 2
Accept Deductible Bitcoin and Altcoin donations to fund Cloud Folding (coming soon)
Phase 3
Accept Deductible CureCoin donations to fund Selected Charities (coming soon)
Phase 4
Future Cloud Folding Expansion "A" ETA 2017
Phase 5
Future Cloud Folding Expansion "B" ETA 2017
---
Donation funds submitted to "CureCoin" must be sent through Visions Made Viable, who manages and oversees our finances according to our budget. See figure and donation information below.
Donate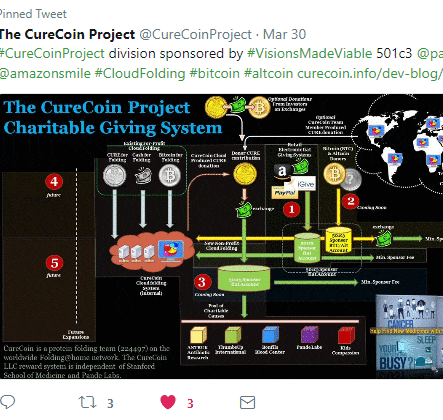 You can make a tax deductible contribution to support The CureCoin Project's Cloud Folding via PayPal donation through 'Visions Made Viable' or 'CureCoin ' to either:
Or, you can make a tax deductible contribution to support the work of CureCoin by sending a check payable to:
Visions Made Viable
17595 Harvard Ave.
Suite C235
Irvine, California 92614
(please add Attn: CureCoin in the notes section of your check)
*CureCoin digital currency produced via The CureCoin Project's private Cloud Folding systems will either be converted and re-invested into the Cloud Folding systems, or donated to our sponsored charities through Vision's Made Viable at The CureCoin Project's discretion. A quarterly report will be furnished to show how much was received, how many Folding@home computational points (PPD) were generated by the project, and how much was donated to our selected charities. Merged Folding will be utilized to maximize computational output and maximize donations for our selected charities through Visions Made Viable.
---
The CureCoin Project Folding@home accounts are as follows:
The non-profit CureCoin Project Private Cloud Folding rack is ready to contribute to research with the help of your generous donations. The CureCoin LLC public for-profit Cloud Folding store is currently being re-designed cloudfolding.curecoin.net with an ETA of mid-December for those who want to commission convenient cloud folding to generate their CureCoins.
Contributions to The CureCoin Project are tax deductible to the extent allowed by law and its fiscal sponsor, Visions Made Viable, provided no goods or services for your contribution."
More tax deductible giving options using Bitcoin and Altcoin digital currencies will be deployed through Coinpayments.net in the coming weeks!
Thanks and Happy Folding,
The CureCoin LLC Team.
---
---