The Curecoin Project
Our nonprofit division, the "CureCoin Project" has donated over $48,360.61 to charities (including our Folding Office). Now you can support/donate our CureCoin Project system using tax deductible contributions
– 90% of donations will directly support Curecoin Blockchain Development, Curecoin Rewarded Giving charity and computational power towards
Protein Folding Research on Folding@home
to help scientists study diseases like Cancer, Alzheimer's, Parkinson's, HIV and other very serious genetic, viral and bacterial diseases. Additionally, thanks to blockchain technology, the resulting CureCoin and FoldingCoin tokens, exchange symbols [
CURE
] and [
FLDC
], will be used to extend the non-profit CureCoin Project Cloud Folding systems in our Denver, Colorado US facility, in addition to current funding of select charities through Visions Made Viable*. "The CureCoin Project" has fiscal sponsorship from
Visions Made Viable
, a 501(c)3 nonprofit organization (tax ID number: 26-2214003). Fiscal sponsorship means that The CureCoin Project has legal and tax exempt status under a sponsoring organization which has agreed to offer us nonprofit status for donations administration. Our fiscal sponsor is Visions Made Viable, a 501(c)3 non-profit based in California and committed to helping seed projects launch, and many of which "spin-off" to become independent non-profits.
Donation funds submitted to "CureCoin" will be sent through Visions Made Viable, who manages and oversees our finances according to our budget. See figure and donation information below.
You can make a tax deductible contribution
to support Curecoin Blockchain Development, CureCoin Project's Charity and Cloud Folding via Credit Card, echeck or check donation via 'Visions Made Viable':
Tax Deductible Donation via Credit Card or eCheck using Vision Made Viable Wedid.it Campaign
Donate in Bitcoin 163Diy7yzjQ2AkjXZDEH2a29xw2E5Tji5Y or Pre-arrange to make tax-deductible crypto donations through Visions Made Viable
OR
You can make a tax deductible contribution to support the work of CureCoin by sending a check payable to:
'Visions Made Viable' or 'CureCoin ' and Sent To:
Visions Made Viable 17595 Harvard Ave. Suite C235 Irvine, California 92614
(please add Attn: CureCoin in the notes section of your check)
Every Amazon purchase can help research.
Amazon donates part of their purchase price with every purchase using Amazon Smile … it's easy:
"You Shop, Amazon Gives"
Just select "
Visions Made Viable
" in Amazon Smile, and VMV will ensure 100% of Amazon's donation will go exclusively to support the Curecoin Project!!!

*CureCoin digital currency produced via The CureCoin Project's private Cloud Folding systems will either be converted and re-invested into the Cloud Folding systems, which subsequently donate funds to our sponsored charities through Vision's Made Viable at The CureCoin Project's discretion. A quarterly report will be furnished to show how much was received, how many Folding@home computational points (PPD) were generated by the project, and how much was donated to our selected charities.
Merged Folding
will be utilized to maximize computational output and maximize donations for our selected charities through Visions Made Viable.
The CureCoin Project Charity Cloud Folding@home accounts are as follows (and you can also contribute your processing power to them as well)
Now, even part-time or casual folders can increase their small computer's impact on research!
No token wallet required…
You can always switch to fold on behalf of the Curecoin Project (part time or full time). The cumulative effect of small contributions can have a HUGE impact on research by folding for our nonprofit Project.
Collectively
, even low-power casual Folding@home participants can generate LOTS of tokens to support upgrades to our more powerful charity cloud equipment AND to fund charities. This helps maintain market stability for the tokens, and reduces the impact of "folding silos" by letting everyone participate in Curecoin – whether for profit, or charity.
Here's how:
If you've never folded proteins, start by downloading the Folding@home Full Client
Switch your username to curecoinpro_ALL_1Hf6D8GHxDNJFVkaVR5RJrX6BeUB9Gx3iF
Switch your team to the Curecoin Team 224497
…to maximize contributions, contribute at least 10 Work Units (WUs) overnight – after this all contribution earn a Quick Return Bonus (QRB) points
You can always switch back to your original username & favorite team, but stay tuned for promotions designed for the "casual philanthropists" on our team 😉
If later you want to start earning tokens for yourself, go to our knowledgebase
The non-profit CureCoin Project Private Cloud Folding rack is ready to contribute to research with the help of your generous donations. The CureCoin LLC public for-profit Cloud Folding store is ready to let your earn CURE at curecoin.net/shop for those who want to commission convenient cloud folding to help generate their own CureCoins without the need to purchase expensive equipment.
Contributions to The CureCoin Project are tax deductible to the extent allowed by law and its fiscal sponsor, Visions Made Viable, provided no goods or services for your contribution."
Where Can I Donate CureCoins (ask about tax deductible crypto donations at

[email protected]

)
Donations since Curecoin's Inception equal over $48,360.61 USD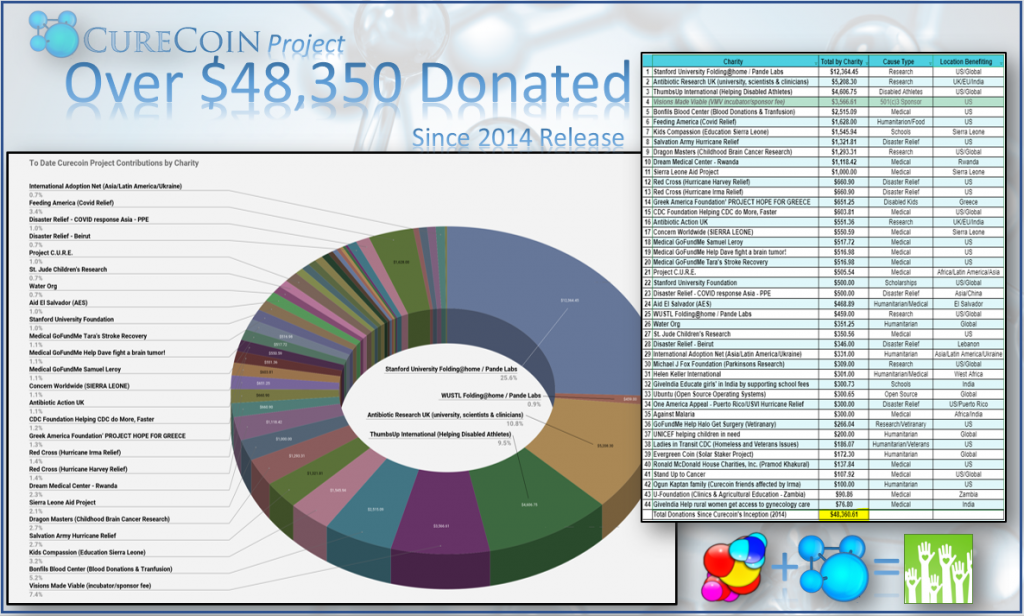 Stanford University Folding@home / Pande Labs               $12,364.45
Antibiotic Research UK (university, scientists & clinicians)               $5,208.30
ThumbsUp International (Helping Disabled Athletes)       $4,606.75
Visions Made Viable (VMV non-profit incubator/sponsor fee)      $3,566.61
Bonfils Blood Center (Blood Donations & Transfusion)       $2,515.09
Feeding America (COVID-19 Relief)   $1,628.00
Kids Compassion (Education Sierra Leone)            $1,545.94
Salvation Army Hurricane Relief $1,321.81
Dragon Masters (Childhood Brain Cancer Research)         $1,293.31
Dream Medical Center – Rwanda               $1,118.42
Sierra Leone Aid Project $1,000.00
Red Cross (Hurricane Harvey Relief)         $660.90
Red Cross (Hurricane Irma Relief)              $660.90
Greek America Foundation' PROJECT HOPE FOR GREECE $651.25
CDC Foundation Helping CDC do More, Faster     $603.81
Antibiotic Action UK        $551.36
Concern Worldwide (SIERRA LEONE)        $550.59
Medical GoFundMe Samuel Leroy            $517.72
Medical GoFundMe Help Dave fight a brain tumor!           $516.98
Medical GoFundMe Tara's Stroke Recovery          $516.98
Project C.U.R.E. $505.54
Stanford University Foundation $500.00
Disaster Relief – COVID response Asia – PPE           $500.00
Aid El Salvador (AES)       $468.89
WUSTL Folding@home / Pande Labs       $459.00
Water Org           $351.25
St. Jude Children's Research        $350.56
Disaster Relief – Beirut   $346.00
International Adoption Net (Asia/Latin America/Ukraine)              $331.00
Michael J Fox Foundation (Parkinsons Research) $309.00
Helen Keller International            $301.00
GiveIndia Educate girls' in India by supporting school fees             $300.73
Ubuntu (Open Source Operating Systems)            $300.65
One America Appeal – Puerto Rico/USVI Hurricane Relief $300.00
Against Malaria $300.00
GoFundMe Help Halo Get Surgery (Vetiranary)   $266.04
UNICEF helping children in need $200.00
Ladies in Transit CDC (Homeless and Veterans Issues)     $186.07
Evergreen Coin (Solar Staker Project)      $172.30
Ronald McDonald House Charities, Inc. (Pramod Khakural)            $137.84
Stand Up to Cancer         $107.92
Ogun Kaptan family (Curecoin friends affected by Irma)  $100.00
U-Foundation (Clinics & Agricultural Education – Zambia)                $90.86
GiveIndia Help rural women get access to gynecology care            $76.80
Total Donations Since Curecoin's Inception (2014) =

$48,360.61