Contest posted on our Facebook and Twitter social media accounts
Instructions Posted Below – Good Luck !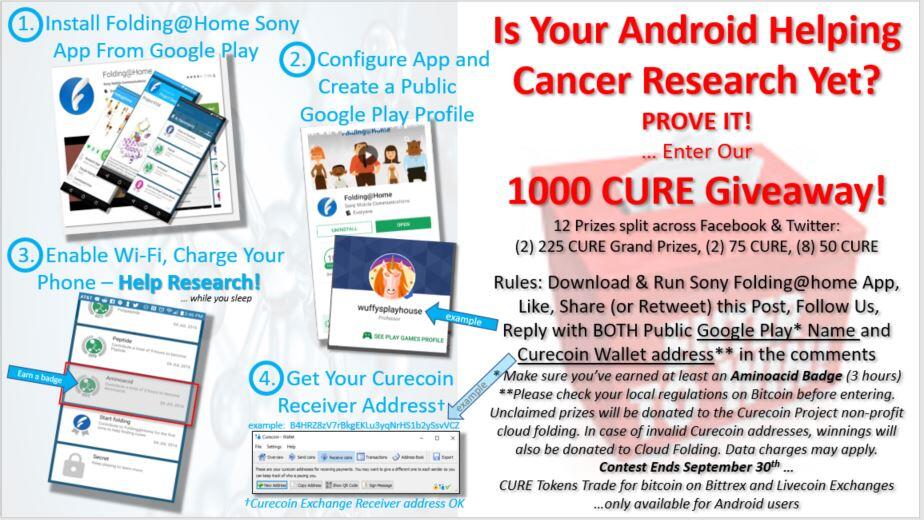 1000 CURE Giveaway Rules! (client only available for Android users for now, sorry)
12 Prizes split across Facebook & Twitter:
(2) 225 CURE Grand Prizes, (2) 75 CURE, (8) 50 CURE
Contest Ends September 30, 2017
Download & Run Sony's Folding@home App to your Android Phone (see link below)

The App only runs when your phone is using Wi-fi and is plugged into a charger (with a 98% charge)

Reply with BOTH Public Google Play Name* and Curecoin Wallet address**
Like & Share (or Retweet) this Post, Follow Us
Current Curecoin Price Quote from Coingecko (check blue USD or BTC):
https://www.coingecko.com/en/coins/curecoin
Download Sony Xperia Folding@home Client to your Android:
https://play.google.com/store/apps/details?id=com.sonymobile.androidapp.gridcomputing&hl=en
Download Wallet to create receiver address (example: B4HRZ8zV7rBkgEKLu3yqNrHS1b2ySsvVCZ):
https://Curecoin.net/knowledge-base/resources/where-can-i-get-a-curecoin-wallet/
OR
Create and account on either Bittrex or Livecoin exchanges to get a receiver address:
https://Curecoin.net/knowledge-base/exchanges/
* Make sure you've earned at least an Aminoacid Badge (3 hours)
** Please check your local regulations on Bitcoin before entering. Unclaimed prizes will be donated to the Curecoin Project non-profit cloud folding. In case of invalid Curecoin addresses, winnings will also be donated to Cloud Folding. Data charges may apply when downloading the app – check your plan.
CURE Tokens Trade for bitcoin on Bittrex and Livecoin Exchanges
---
---